Copy/Move/Merge allows to easily copy or move stock, comments/emails and actual labour within jobs and quotes.
| | |
| --- | --- |
| | Note: Copy/Move/Merge cannot be performed on a job that has been invoiced, or where there is a stock transaction on a purchase order on Received. |
This function is destination based, ie. copying or moving from the selected source object to the destination object that is currently open.
| | |
| --- | --- |
| | Users can be restricted from using this function via Tools > Options > Security for both jobs and quotes. |
Copy Mode
Clicking the icon
when editing an object enters Copy mode. From there, choose the Copy From source (either manually or from recently viewed objects), choose the stock to be copied, then click Copy.
In order to use this functionality, open the job where the stock is to be copied to, ie. the destination job.
▪This option is only available in Edit mode on the object the stock is being copied to.
▪Only copies stock – comments or labour timers are not copied.
The Select Recommended button will only be usable when adding kits.
▪Stock can be copied from a job, quote or template.
▪Selecting Job or Quote will display a list of objects which have been recently viewed and edited to make it faster to find the object being copied from. Otherwise, enter the job/quote number manually.
▪To copy from a template, the template lookup screen will be presented, where a user can select the template to copy stock from.
▪Once the template has been chosen, click Load. Then tick which stock lines to copy.
Move/Merge Mode
Clicking the
icon when viewing an object enters Move/Merge mode. From there, select the source (either manually or from recently viewed objects), choose the stock, comments/email and labour to move, then click Move. Once everything is selected, click Merge. Merge moves everything from the source object to the destination object, then marks the source object as cancelled.
| | |
| --- | --- |
| | Move/merge can only performed from/to the same object type, ie. job to job. |
Options available in View mode of an object (Jes must be running):
▪Move – from one object to another.
▪Merge – move from one object to another, and change the original object's status to Cancel. It will also add a comment of See Job #*** in the Comment grid of the cancelled object.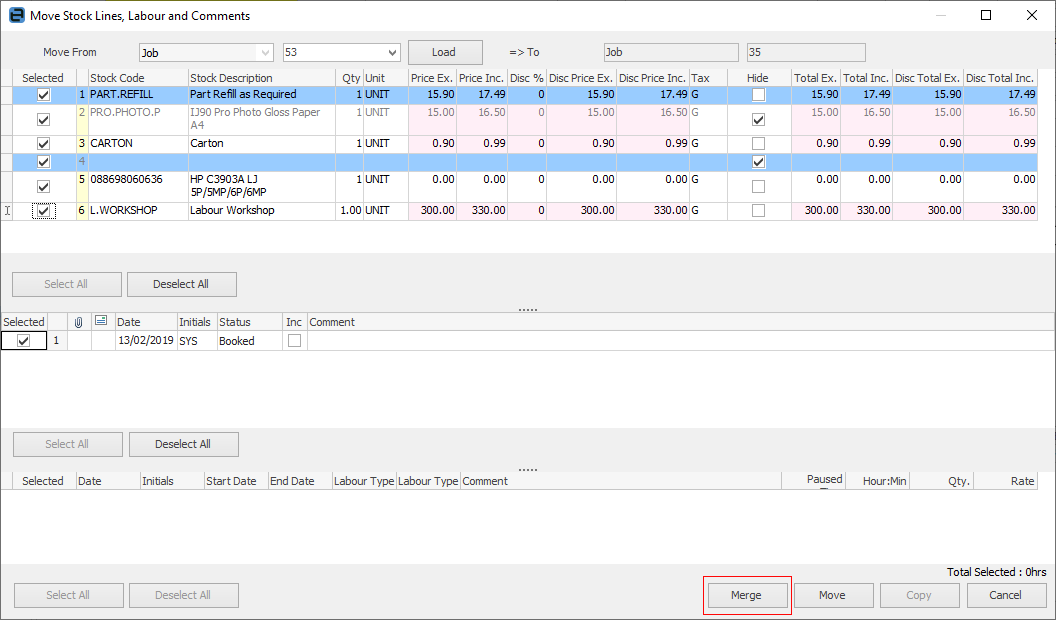 | | |
| --- | --- |
| | Everything must be selected to enable the Merge button. |
▪Stock, comments (including emails with attachments) and labour can be moved or merged.
▪Select all records or only some to move. Select all to merge all objects.
▪In order to perform a merge and cancel the original object, all stock, comments and labour must be selected from the original source for that object to move to a status of Cancel.
▪New Quote# field will display the original quote number (same applies for Job#). A comment (See Quote #***) will be entered into the Comment field of the cancelled object.
The following applies to both Copy and Move/Merge functions:
▪stock pricing will also copy over to the destination object. The stock price can then be recalculated if desired. If the source is from a template, hover over the price fields, which will present a snapshot of the pricing rules used to display that figure
▪a yellow background colour on a copied stock line indicates a promotion. Hovering over the price indicates which promotion is being applied.