When configuring Jim2, please be aware that the software is supplied with a set of management oriented default (preset) options. As Jim2 is designed to work behind the scenes, you should tailor the available options to follow your work rules and management practices in order to maximise your software investment.
By setting specific defaults to suit your practices, Jim2 will automatically implement these settings and criteria for users to follow.
To set up Jim2 Options, on the ribbon go to Tools > Options.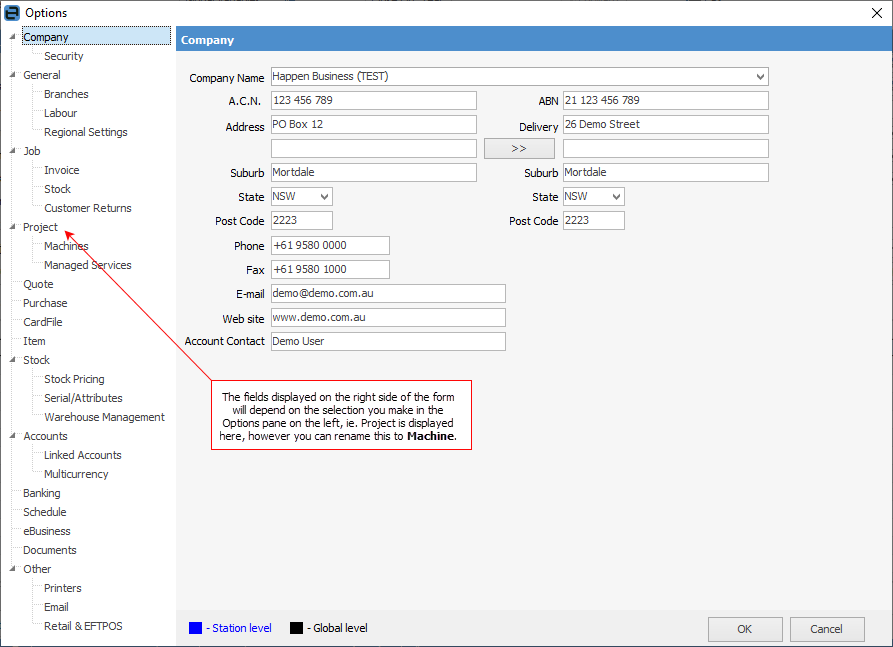 | | |
| --- | --- |
| | The options that a user can access and edit will depend on their security level. For example, when a user with administration rights opens Options, the cursor will start on Company, whereas a user who only has access rights to the Other > Printers options will be taken directly to that section. If the user attempts to access a restricted option they will receive a security warning relevant to that section. |
Option settings fall into two categories:
▪Global level – Jim2 uses these options in its methodology for your business. Note that all global level options are coloured black.
▪Station level – your network configuration is mapped into the most appropriate use for your workstation. Note that all station level options are coloured blue.
How and why you choose to set up these general options should be explained and discussed with your staff, vendors and even customers. They form a live record of the expected work practices your company follows. New employees, vendors and customers can be guided by these options in terms of service and supply expectations. Additional options or exceptions can be set at an object level to suit special circumstances.
| | |
| --- | --- |
| | Each option should be considered and reviewed regularly to ensure that your company is performing at its peak efficiency in response to your customer and market needs. You are able to alter most of these options as required. |
The general default options set should represent the normal or expected conditions in your workflow, and provide Jim2 with the information it needs for:
▪Performing calculations of time for automatically setting due dates and valid until dates, and recording them for reporting.
▪Applying and calculating tax rates and account fees, and recording them for reporting.
▪Pricing issues such as rounding sale price, spreading expense costs, and applying them consistently.
▪Preferred price calculation (fixed price, cost + %, etc.), and applying them consistently.
You are able to set more specific conditions via the different object forms to cover special circumstances or contract conditions. As an example, set a specific due date for a customer via their card file, or set specific price levels or volume price breaks on products for a customer via that stock record. When set at an object level, these specific options will override the general default automatically. When set at an object level, users are effectively overriding all defaults.
| | |
| --- | --- |
| | Once set, each option will default information automatically to object forms and reports. These options manage work practices, and provide you with realistic measures to gauge productivity, profitability and process success. As your company, market or taxation requirements change you can adjust these options to suit. |
The ability to direct your work practices so specifically ensures that Jim2 Business Engine can grow and change with your company needs.
To install or change these defaults:
Go to Tools > Options and select the tab of the option you want to edit. Edit according to your requirements and click OK to accept the changes or Cancel to return to the previously saved changes.
When changing most options, you will need to log off and back on to Jim2 for these to take effect.
Further information: