One of the most important functions required in any business software application is the reporting function.
Businesses use reports in a variety of ways, and reports should be able to produce useful and relevant information in an easy-to-read format. Jim2 gives you the option of using the report formats we have already designed (system reports), customising those formats to better suit your business, or creating your own reports using the Jim2 Report Designer function (custom reports).
The Report Designer is fully integrated into Jim2. On the ribbon, go to Tools > Report Designer which will open Report Designer in its own window, appearing as a separate icon in the Windows task bar. When open, it also appears under Switch Windows located in the Quick Access Toolbar within Jim2.
The reports available within each Jim2 object or function were created by Report Designer, and can be modified.
| | |
| --- | --- |
| | System reports should never be modified – the best approach is to make a copy of the existing System report and make changes to that copy. This ensures that reports don't become broken during upgrades. |
Report Designer contains two separate sections: Report Explorer, a holding area where reports are maintained, and Report Editor, where individual reports can be created or modified to suit your requirements.
| | |
| --- | --- |
| | Reports in Jim2 are context sensitive, ie. the choice of reports you have available to you via the drop-down list will bear a direct relationship to the active function and object you are in, and to your allocated report level security. The actual print devices available to you will have been set via the printer options as these are workstation-specific. The Management > Reports object gives access to your management reports. |
Reports themselves are a combination of information and calculations made available in specific and useful formats:
▪Object and function reports, such as invoices, quotes, list reports, delivery dockets, etc.
▪Management reports, such as stock profit reports, GST support documents, etc.
Report Designer allows you to produce these types of reports from within Jim2 by combining:
▪RAP (Report Application Pascal).
▪Specific objects or components to execute events, using your data.
▪Scripts used to generate data pipelines for use in your reports.
You can create object preview reports that make use of the Preview screen on the Jim2 Desktop. The types of reports available in this area can be static content or script forms.
These preview reports are located within Report Designer in the Nav Tree on the left of your screen: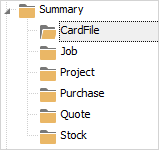 Where multiple reports exist for a given object type, you will see a drop-down list .
| | |
| --- | --- |
| | If the report is a system report, you will not be able to edit it. Instead, you will need to copy the report and rename it, which you can then edit. This is simply a safety mechanism to prevent users from editing a system report which is required for Jim2 to function properly. Right click on the report, select New Report, then From Existing. There are global reports that only use the Company Logo. If you wish to change the logo for, say, the Invoice report, you will require a script to do so. Please contact support@happen.biz to obtain the script. |
Further information:
For more detailed information regarding Report Designer please refer to www.digital-metaphors.com (copy and paste into a web browser).