Within the Purchasing section of Jim2 you are able to purchase stock specifically for a job, by entering the job number on that stock line in the purchase order. If, for any reason after purchasing this stock, the customer doesn't want it, you will need to unallocate it before you can sell it on another job number.
How to Unallocate Stock
1.Select the Stock tab in the Jim2 ribbon, then click Unallocate.
The following screen will be displayed.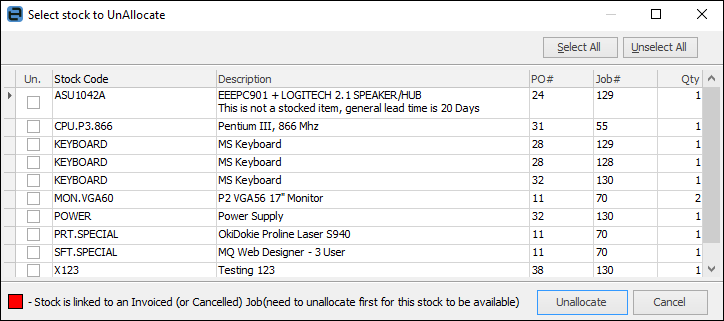 2.Put a tick in the Un. column next to the stock you want to unallocate.
3.Now click Unallocate and you will be prompted to continue.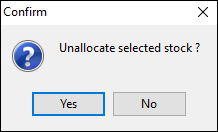 4.If you click Yes, this stock will then be unallocated and available for other jobs.
| | |
| --- | --- |
| | If you should happen to click No to the confirmation message, the original screen will close. If you still want to Unallocate stock, you will need to start again from Step 1. |
Further information: