Throughout Jim2 you will see different coloured text and backgrounds in various fields. Below is an explanation of these colours:
Options
All station level options are coloured blue, whilst global options are coloured black.
Lists in General
In the list header, double clicking on the wording at the beginning of the Group field will turn the field green to indicate that group selection is inverted. For example, select stock that is not in these groups.
| | |
| --- | --- |
| | This does not apply to all lists, ie. Email and Documents. |
Job List Background Colours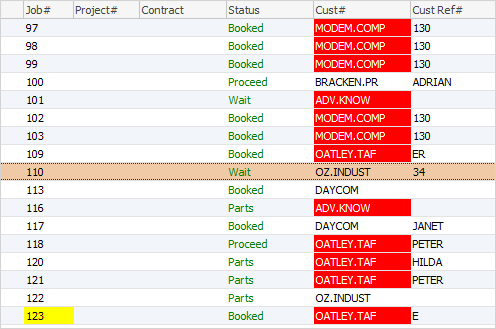 Job#

Yellow

Stock is on back order.

Cust#

Red

Customer is either on credit hold or payment is overdue.

Full row

Orange

Based on status rules, the job has been on the same status for too long:

The row will change to orange after the period of time set here.
Job List Text Colours
| | | |
| --- | --- | --- |
| | | |
| Status | Green | Job is either still in progress or has been finished but not set to Ready. |
| Status | Red | Job has been finished and set to Ready, waiting to be invoiced. |
| Status | Black | Job has been finished and invoiced. |
Job Stock Grid Price Background Colours
| | |
| --- | --- |
| | |
| White | Price level (ie. Price Level 1). |
| Lilac | Contract price level. |
| Green | Customer-specific price level. |
| Yellow | Manual/overridden price level. |
| Mustard | Promotional pricing level. |
| Orange | |
| Blue | This is a kit. |
| Pale Blue | Linked to a purchase order. See Stock Code below – can also be background for special stock. |
| Red | If any stock is back ordered, the background of the B.Ord column will be red. |
| Pink | Different price level. |
| Light Grey | If you reserve stock at a line level, the line will turn light grey. If the whole job is reserved, the entire stock grid will turn light grey. |
If you hover over the coloured fields, Jim2 will pop up an explanation of the colour meaning:

Within the header field of a job, if the Cust# field is pale red, this means that the customer is on credit hold.
Stock Code

Red

This indicates stock you are selling is special stock. It will show with the stock code in red, and also the background of the line in light blue.

Stock Code

Yellow

Indicates that this stock is on back order.

Price Columns

Red

If the supply plus back ordered figures do not equal the ordered quantity, figures will be displayed in red.

Supply Column

Green

100% availability.

Orange

Indicates less than 100% availability.

Red

When the quantity is in red text, this means that more information is required, ie. users need to click on the ellipsis [...] at the left of the Description field and select (or add) the serial number or attribute/s relating to that stock.
Total $ Amount in Footer of Job or Purchase
Total in the footer will show the actual total based on quantity supplied. Select Total and it will change to green, which will change the total amount to match the quantity ordered.
| | |
| --- | --- |
| | If Multicurrency is in use, selecting the $ (AUD) next to Total in the footer will show the foreign currency amount. |
Balance Due amount in red indicates that the amount has not been paid.
Project List Colours
Within the State and Next Billed fields some text may be coloured red. This means that an action is required on that project, ie. a billing job needs to be generated etc.
Once this has been done, the text will revert to black, ready for the next billing due cycle.
Project Templates
| | |
| --- | --- |
| | |
| Yellow | The value here is set at the template level. |
| Red | The value is being inherited from either the Project, or a higher-level template association. |
| Green | The value is coming from the default on the card file. |
| Blue | The value is coming from a default source such as stock code, Item code or logged on user. |
| White | There is no value, and the value on the job will have no value when created. |
Purchase/Expense Order List Colours
If the background of a PO# is yellow, this is a Back order PO.
Status type:
▪Green is a current PO (unfinished).
▪Red is Received.
▪Black is Finished.
Stock Procurement Colours
The quantity text colour of red in procurement alerts that you have ordered more than what is required based on your procurement setup.
General Information
Within most Jim2 objects, hovering over the Cust#, From#, Ship#, Card Code and other fields within the header will change to a hyperlink and change the colour from black to blue with an underline, showing that it is a hyperlink.
Further information: