Go to Tools > Report Designer.
On the Report Explorer ribbon click Import.
Locate the file and click Open.
The report is now available for import in the right-hand Report screen.
Choose the report(s) required (if there are multiple reports and not all need to be imported) then click Import.
| | |
| --- | --- |
| | It is not necessary to use any of the >, >>, <, or << buttons when importing reports (unless you are choosing more than one report). Once the report(s) is displayed on the right side of the import screen, click Import. |
If the report already exists, the following will appear.
Once the report has been imported, a confirmation will appear.
Log off and back on to refresh the Report list.
Once installed, the report will be visible from the appropriate object screen: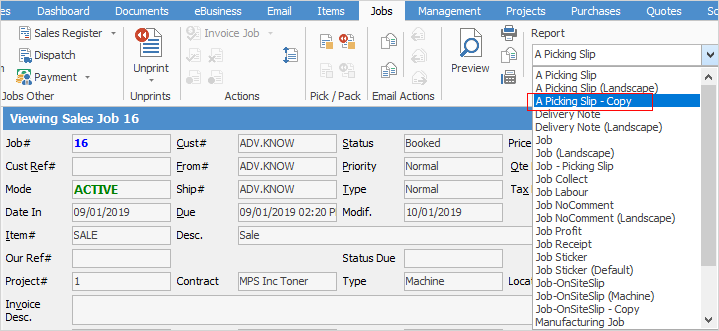 Further information
How to
Add a Signable Report for Jim2 Mobile
Display Company Logo In Reports
Set up Back of Page Text on Invoice
For more detailed information regarding Report Designer please refer to www.digital-metaphors.com (copy and paste into a web browser).