1. Set up Jef for Page Counts (Meter Reads)
| | |
| --- | --- |
| | In the installation, there is a sample site which already has a photocopier website set up. This is recommended to use and set up over manual configuration. |
Log on to your website as an administrator. Go to Site Admin > Manage > Pages, select the Meter Reads page, then click Edit on the right hand side. Tick Anonymous, then select the template eBusiness No Logon.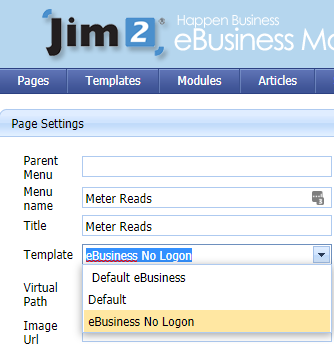 You then need to Publish Pages to ensure this change is live on the website.
2. Configure the Jim2 Options
On the ribbon, go to Tools > Options > Machine > Machines, and enter the web address for the meter reads (this is set up via eBusiness Service). Tick Auto BCC Page Requests if you wish to receive them via your email address as well.
Set up web user security to allow access to the web page.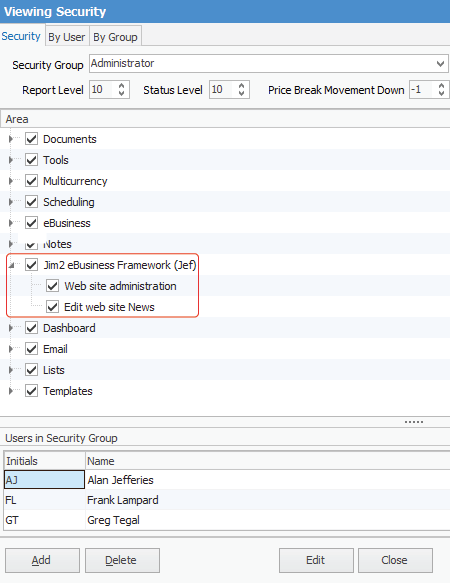 Set up an administrator to have Jef Administration access, and/or enable a user for a web account.
3. Set up Email Templates
Email Templates need to be set up using macros for page requests.
Templates need to be set up for Email Password (see bottom macro in image above) if required.
4. Send the Welcome Email from Card File
| | |
| --- | --- |
| | You will need to have the SMTP Email Server set up in Jim2 Options. Do not send the email until you have completed/confirmed the Jef installation. |
5. Set up Machines for Request by Web Email
a.In each machine, select Request By. Change this to Email (Web).
b.You are able to set up an individual contact that will receive the page requests and web logon as well.
c.In CardFile, set up the Email Photocopier for each contact, including the primary contact.
Run a Machine list, and filter as required (ie. select a particular card file, etc.). Select Report > Machine List - E-Meter Read Setup.
Select Preview, tick Change machine's Request By method to Email (Web), then click Run..
| | |
| --- | --- |
| | It is important that you select the correct Request By method, otherwise, if left blank, it will run a list of all machines. |
On the ribbon, select the Report Machine List - E-Meter Read Setup.
Click Print.
Click OK (do not tick any other boxes).
Go into one of the machines and ensure that Request #, Attn: and Request By have been properly populated.
Once complete, you can then request meter reads either via a list, or via a machine. Select the Machine - Page Request Form report, then click Print. You will receive the following message. Click OK.
You will then be presented with the email according to the template you set up earlier (see point 3 above).
Click Send.
Further information: