Whilst there are no issues with marking a stock as inactive when there is a quantity in stock (as this does not affect reporting), you will receive a warning: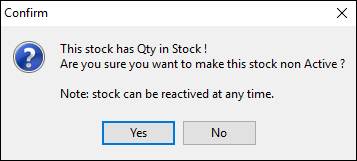 Normally, you would not want to mark as inactive when you have a quantity in Stock, hence the warnings etc, however it is fine to do.
Possible reasons for marking inactive:
▪New product but not for sale or purchase yet.
▪Old product that is in stock, and needs to be written off.
▪You don't want it available for selection, ie. product recall for example, and stock is in a quarantine location.
▪The product is still in stock, you are just flagging it as inactive.
You could consider unticking both the This Stock I Buy and This Stock I Sell, which is the basically the same as Inactive.
A report to use for auditing purposes is Stock Value By GL Group under Management > Reports in the Stock Reports folder.
This report directly compares the stock sub ledger to the GL, and is a good way to check that no one is journalling directly to the SOH GL accounts.
In a perfect world this report should match to the cent, but is often out a few cents due to rounding (eg. I buy a pack of 3 things at $10 so 3.3333 each in SOH).
Stock list by default only shows Active stock, however if you click the Active tick box twice to show a solid black box inside the tick box it shows both active and inactive.
Further information: